"Every single person matters in this economy. We need to collaborate to ensure that our grade 11 and 12 students have every opportunity for
mentorship and support to identify possible career and entrepreneurial opportunities in our community. This is good for the Surrey economy. This is good for the Canadian economy." Anita Huberman, President & CEO of the Surrey Board of Trade explains why her organization is collaborating with the Reboot Plus program, Surrey Schools, and Douglas College to bridge gaps in the labour market and create a thriving economy.
Graduation Rates Matter to Local Economies
School failure has profound economic consequences for individuals and society. Every child out of school represents lost personal and social opportunities and staggering economic cost. The Reboot Plus program is designed for vulnerable youth aged 17 to 24 who have not finished high school and do not have a plan for their future. "The role the Surrey Board of Trade has in youth graduation rates is very critical. Our philosophy for the Surrey Board of Trade and our Strategic Plan has the foundation of transportation and education driving the economy. Everything flows from here to build and grow this city to create opportunities for its citizens," says Huberman.
Diverse Demographics Help Businesses Thrive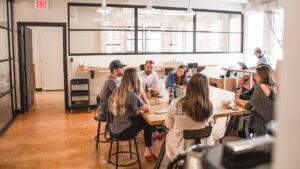 In Surrey, 1/3 of the population is under 19, while one in five persons (21.8%) of the workforce is close to retirement. The upcoming workforce, Generation Z, is known for being at ease in a multicultural and gender-fluid society, taking pleasure in learning from others. This generation is more attune to their mental wellness and desire meaningful employment. "No longer can we rely on the traditional modes to hire employees," says Huberman. "We need to really ensure the succession of our businesses and that means creating partnerships with our grade 11 and 12 students. We all need to collaborate and work together to ensure their success points and I think we've been able to build this with the Reboot Plus program," Huberman continues. "I think the program has been re-funded because results have shown that students who are not on track to graduate high school are able to find opportunities despite the challenges that they may be facing."
Education is a Driver of the Economy
While Surrey is faring better than most other Canadian cities, "there are specific sectors facing specific challenges. We need to make sure we're working with our education partners to focus on real-time education needs," says Huberman. In Surrey, the hardest hit sectors in terms of skills shortages are in the construction and development sector, the manufacturing sector, and the health care sector. "We all need to make sure that we're identifying where the industry needs are, where the opportunities are, and that every job matters to drive the economy forward."
Students in the Reboot Plus program are guided by a Hope-Centered career development approach that promotes experiential learning, self-reflection and envisioning. The overall goal is to provide a positive educational experience and encourage youth to actively continue their education to prepare for a meaningful career.
Businesses Can Help Youth on Their Career Journey
The Surrey Board of Trade's involvement in this project has helped them learn that there are individuals in the Surrey community who are uncertain about where their future lies. "We have learned that we all need to take the time, especially with our high school students who are at such a critical stage in their lives, to look at opportunities for what comes before them," Huberman observes. "What comes before them is not necessarily one career for the rest of their lives; rather many opportunities in the journey of their life."
As a part of the program, Reboot Plus participants are connected to career professionals who share their knowledge and personal experience through informational interviews. This process helps participants gain an understanding of careers of interest and the world of work and begin to develop a professional network. Huberman invites Surrey businesses to get involved in this project: "make sure you're taking the time to really articulate the opportunities in your community that are available to students."