Vanessa Marshall works as an Artist Manager at DNEG (VFX company) and part time as a Course Instructor at Vancouver Film School teaching networking, social media and branding. Her main function as an Artist Manager is to build relationships with her team and support them in having the best experience possible by advocating for them and helping facilitate their ideas as well as bringing forward her own vision.
Students of the Reboot Plus program have the opportunity to connect with Vanessa through an informational interview. They learn about her career path and her roles along the way. She shares her experience with the Reboot Plus program, what a day in her life looks like, and what advice she has for youth.
On Informational Interviews
I love doing informational interviews. I do them quite frequently as part of my job. I enjoy working with people to help them get a clearer idea of what they can do that will take them toward their goals. Working with a program like Reboot Plus is fun and rewarding. As inspiring as it might be for the program attendees, it's equally inspiring and energizing for me when I get the opportunity to connect with folks who are excited about exploring their future.
On a Typical Workday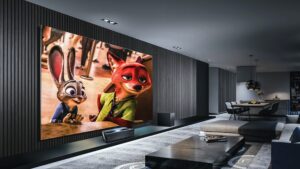 My workday has me collaborating with artists, trainers, HR, recruitment, heads of departments and department production managers. I gather and deliver feedback, design and present workshops, help artists with their career development, attend interviews, and plan projects. No day is the same! The most surprising thing is that I am having so much fun! I love working with artists and other creatives and sharing their passion for making cool content. I love watching ideas come to life.
Previously I worked in Recruitment before I switched industries and started in production at an animation studio. Positions like Production Assistant or Coordinator are great ways to break into this industry.
On Mentorship
I have had so many great mentors over the years. One of my biggest mentors was someone I worked with at my first job in the animation industry. He was meticulous about the way he approached the work and I learned many valuable skills during that time that I still use to this day. Be open to learning from the people around you!
On Advice for Youth
It's good to try new things and see what kind of work or tasks fit your personality. Utilize a curious attitude in whatever you do! You never know what new skills you'll pick up or who you'll meet just by taking an interest and asking questions about the industry you're working in.
You don't need to be the most outgoing person to be successful. There is room for all kinds of personalities within the workplace, breathe, try not to overthink it and be yourself!
On Goal Setting
I like to journal, set goals and break those goals down into smaller milestones to help me reach my target. If something isn't working, I will reassess and make adjustments. It's okay to adjust or even leave a goal behind as you evolve and understand more about yourself.
On Balance
Always remember that your wellbeing is #1. You will do your best work in any career if you are putting your health first. Keep your mental health in check and pace yourself! It's important not to get caught in the trap of comparing yourself to others when you are just starting out on a new path (or ever). Instead, try to be curious and find the fun in whatever you're doing.