"We've been able to show that we're making a difference as an organization to our city in our partnership with Reboot Plus. This program created a foundation of our youth service portfolio which is very important to the Surrey Board of Trade."
The Surrey Board of Trade is a leader on initiatives that match with the principle of their economic plan. Anita Huberman, President and CEO of the Surrey Board of Trade reflects on their partnership with the Reboot Plus program.
Working with Youth to Enhance Economic Advancement in Our Communities
"We were approached by Douglas College and PEERs Employment & Education Resource to work collaboratively on this youth development project. The goal was to enhance economic advancement in our community. Our action plan is that every single person matters in our workforce. And so, when we learned that there was a pool of individuals that were at risk of not graduating high school, we wanted to offer our support."
"We are a city building business organization and these connections, this opportunity to provide mentorship and advice is a part of city building. It's integral to the future of our communities."
Building Productive Pathways to Those in Need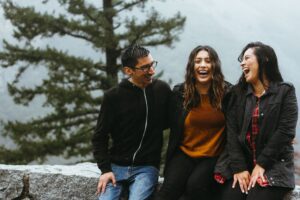 "Through business community connections we utilized the power of the Surrey Board of Trade to build productive pathways to those in need. Subsequently, we want our members to positive role models for those that need help. Our work in the Reboot Plus program builds foundational blocks for our future workforce and our future entrepreneurs. We want to be a part of an ecosystem developing those that are at risk."
Linking Students to Businesses to Make a Difference
"Education, in my perspective, is what develops different opportunities in life. Many kids in our school system are facing barriers to high school graduation. Certainly, our participation has opened our eyes to the needs of vulnerable youth in our community. It's allowed us to link students to our businesses and engaged our business members to make a difference in their community. We're facing so many economic shifts and we needed to support our youth to see how they fit."
"This is what this program is all about: supporting young people that are in need. Every single person matters in this economy. Our interventions helped some of these young people move forward with a concrete plan. Through connections, career supports, and advice, young people can see the path forward. Consequently, they are taking concrete steps to helping our economy."
Providing Opportunities for Professionals to Learn About Youth
"Professionals who have participated in working with youth have said that this is one of the most positive experiences they've had in learning about youth. They learned what their interests were and how young people wanted to be approached in a way that an employer would want to know about," says Kapil Sharma, Administrative Assistant of the Surrey Board of Trade.
"We want to make sure we make the right connections for youth to engage with," continues Anita. "There is a wish list of different industries that the students wanted to engage with. We did our very best and I think we did very well. Through the project's financial capital support and staff support, we were able to identify individuals, business leaders that the participants could speak to gain the advice that they needed."
Receiving the Tools to Make this Program Successful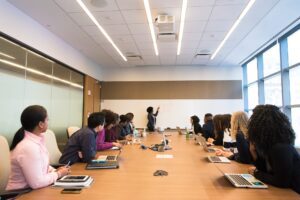 Douglas College and PEERs Employment & Education Resource have been great partners. They provided a lot of instruction and support. I never felt at any time that things were disorganized at all. We were provided all the tools necessary to promote the program and connect to our community.
This has been a positive program. We have been able to further engage and retain our members while helping youth find their footing. I encourage the Future Skills Centre or potential funders to continue the program. Certainly we want to see the program continue. It's an absolute necessity for our community to build our city and to build our workforces. We would lose a significant part of our youth service portfolio and we would have to create a new way in in to support those individuals that are at risk were we to lose this program."