"We are currently in a labour crisis. Business struggle to find workers and it's getting worse. We're seeing businesses shut down in our small community because of this. Programs like Reboot Plus help us empower young people to enter the workforce which helps ease off the labour demand."
Connecting Young People to Mentorship Opportunities
Debbie Break-Patten is the President of Bay St. George Chamber of Commerce in Stephenville, Newfoundland. Her community and organization rallied to support their most vulnerable youth struggling to stay on track to graduate with no plans for their future. As advocates for the program, the Chamber provided young people with connections to professionals and opportunities to empower and guide them in a positive direction.
Recognizing the Barriers Youth are Facing
"The pandemic set a lot of our young people back; especially those from our marginalized communities. The gap between the haves and the have nots is wider. We're seeing a decline in mental health in this segment of the population. We're noticing that those without strong family systems are really struggling. These youth need extra wrap-around support to catch them before they fall through the cracks."
"These students are struggling to complete high school because of their myriad of barriers. This sector of the population is missing from our workforce. The work we do, collaboratively, helps them uncover their skill sets and realize their possibilities. With positive feedback and encouragement, we can help them contribute to our labour force and move our economy forward."
Providing Youth an Alternative to Education and Career Development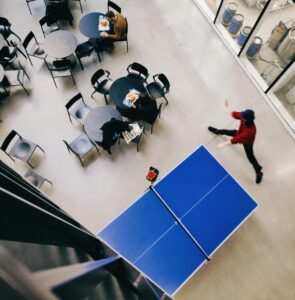 Students recruited for the Reboot Plus program attended classes at the College of the North Atlantic two days a week. The first step to engage these students was to build a supper club into the program. Sharing food near a pool table helped students integrate themselves into campus life. Moving youth from social isolation and reintegrating them gently into a college environment did wonders to their psyche. Once the students engaged, the program worked with them to examine what they want from life.
Returning a Sense of Possibility to Youth
"Reboot Plus is about returning that sense of possibility to a group of people who have just about given up on "being" anything. We encourage that blissfully ignorant, batshit crazy, threading the needle sense of possibility. Then we show them how to get there."  Peter Wilkins is a Faculty Research Liaison for the Training Group at Douglas College.
Students who attended the Reboot Plus program in Stephenville were provided opportunities that stretched the edges of their imaginations. They were offered:
A visit to a movie set while appearing as extras
A chance to try on a fireman's breathing apparatus followed by a search for victims in a fire simulation room
An opportunity to attend a baking class with authors Aaron McInnis and D'Arcy Butler
A tour of a heavy equipment site
These opportunities helped youth gain new insights, become more confident, and most importantly leave the program with a plan.
"The ethos of the program is its magic: we have a low-pressure, high-performance model for success. We don't make anybody do anything; we just offer information, support, and encouragement. We don't try to change our participants. Rather, we adapt to who they are and what they want. We work for them, not the labour market," Wilkins says.
Collaborating Benefits Everyone Involved
The benefits of this collaboration touch everyone involved. "The community engagement was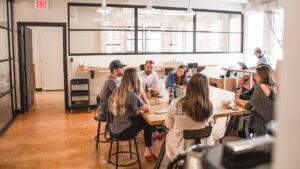 astounding," says Break-Patten. "These youth are our future and everyone who connected with them was happy to offer insight and support. It was a community-building exercise. The funding from Future Skills Centre gave us the opportunity to devote resources and energy to help young people find the connections and inspiration they needed. It's a valuable program. I hope to see it continue to serve our youth for years to come."
With funding from the Government of Canada's Future Skills Centre, we are examining whether a hope-centred education and career development program can help youth find their purpose.
Le projet Reboot Plus est financé par le Centre des Compétences futures du gouvernement du Canada