"One conversation can change someone's life. It did for me."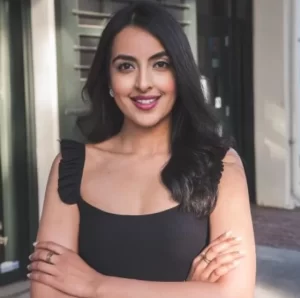 Aanchal Dhir is an Asset Manager for a Real Estate Family office. In her spare time, she founded Career Connect, an online business that connects jobseekers to expert career coaches. She has provided informational interviews to students of the Reboot Plus program. Designed for youth 17 to 24 who have not finished or are not on track to graduate high school, this program connects student participants with business professionals to have informational interviews with 4 – 7 professionals. This gives students opportunity to ask questions and explore what different businesses and careers are really like.
"I love sharing knowledge and information with those around me and this was the perfect platform to do so. My business connects jobseekers to expert career coaches; informational interviews is a service we provide daily. Actively speaking to professionals and working in an environment that you assume to be interesting is much more different than just reading about it. Taking the time to pursue these opportunities to job shadow or intern are remarkably eye-opening and can help shape your future. I see first-hand how impactful these sessions can be.
My Shared Experiences Help Youth See the Right Path
In high school I was determined to become a Pediatrician as I love kids and have always wanted to help them in one way or another. Through my networks, I was able to job shadow the Chief Pediatrician at a local hospital. I spent the day seeing the harsh reality of this work helping sick kids on a daily basis. I saw newborn babies in incubators and my heart broke. During my job shadowing, an emergency arose, and I got to see firsthand how a Pediatrician has to respond. It was an eye-opening experience and it really pushed me to reflect on my choice.
Later, I job shadowed in another, very different role in public markets in finance. I thoroughly enjoyed the analytical aspect of this work along with the fast paced environment and the research that could be conducted. Through this experience I then deviated from my career choice, enrolled in more business classes in high school and ended up applying to the Sauder School of Business at UBC where I graduated with Honors in Finance in 2011. I now have a Masters in Finance from the University of Cambridge.
As a Professional, I Learn From Youth
"One of the students asked me "What do you dislike most about your job?" Usually we receive questions on the more positive spectrum, but this question really pushed me to reflect on what I currently dislike and what I can do to improve. My answer was "As I work remotely at the moment, it becomes very difficult for me to monitor the progress of our farms and development projects. I therefore am not on top of the pulse of our real estate assets at times and I dislike the uncertainty." I took this answer back to my work and from that point onwards have created a system to proactively remove the uncertainties I have been encountering. I love how curious the students are and how open they are hearing to the good and bad."
The youth of today are incredibly more curious and focus on following their passions. This is a great shift in the mentality of the generation and I have shifted my thinking to also be more curious in my role today.
I Enjoy Inspiring Youth
If you work hard and commit to what your passion is, there are always opportunities for you to thrive in the real world. Never give up. Do not let anyone tell you that you are not capable of success. You can do anything and everything if you dedicate yourself to accomplishing your goals.
I Invite Other Professionals to Participate
The Reboot Plus Program is giving the necessary insights to the youth of tomorrow about the potential career opportunities that are in front of them. One conversation with one professional could change these student's life and impact their future decisions. I highly recommend being involved; the impact is priceless."